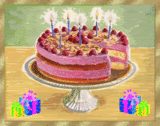 I don't know what that means....year after year I've heard the saying "MANY HAPPY RETURNS" said to people having a birthday and I don't know what it means or refers to. Anybody know?
Anyway, today is my birthday but I have to share it with other people at LibraryThing and my husband's golf buddy, I don't get to have it all to myself (It's okay, I really don't mind, at least that way I know someone will remember to wish me a Happy Birthday.)
So what am I doing to celebrate? Well, I didn't sleep in - in fact I got up earlier than usual so that I could go have breakfast with my husband, Tim, before he started his round of golf. Then I came home,
alone
and read most of the morning (I played a few games in peace and quiet).
Then Tim returned and took me out - where you say?
to get new numbers for the mailbox, a grab bar for the bathroom (I can't remember how many times I've nearly slipped getting out of the bathtub), and some new shelves for my study. Now I have been listening to the pounding for the last several hours as he puts the shelves together. His time is running out because we are headed to Mom's to pick her up and take her out to dinner to celebrate. (She was there 56 years ago and we felt maybe she'd like to join us.) We're going to her favorite restaurant which is just down the street and makes the best crab cakes, YUM, YUM! Tonight I may splurge and get dessert too! So sometime tonight, I hope that Tim remembers to wish me a Happy birthday or Many Happy Returns (Whatever that means)!